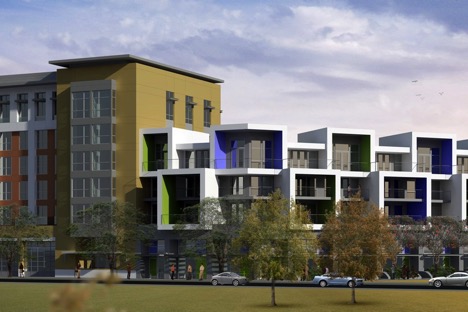 SF Redevelopment Agency / MOH Mission Bay Blocks 5 & 11 San Francisco, CA
Interior noise levels & sound isolation
Blocks 5 and 11 are located along the waterfront in San Francisco's bustling Mission Bay district, adjacent to AT&T Ballpark. The two independent Blocks feature two apartment communities, both four-stories over retail and parking. Block 5 will consist of approximately 170 apartments, and 17,000-18,000 sq.ft. of retail and amenity space. Block 11 will consist of 190 apartments and approximately 5,000 sq.ft. of common area amenities. Our goal was to generate affordable acoustical designs meeting CBC / Title 24 acoustical guidelines for noise isolation of exterior façades and interior partitions, and interior and exterior noise control of mechanical systems.
The scope included:
• Exterior façade noise design for CBC
• Interior sound isolation design for CBC
• MEP Noise control design
Reference: Mark Kim, Associate Partner with MVE (Project Architect), 949-809-3388
Client:  BRE Properties, Inc.
Location: Mission Bay San Francisco
Completion: 2014
Total Units: 360
Total Building Area: 170,000 gsf
Expected Cost: $30M
Architect, Contractor: MVE & Partners Architects Nibbi Contractors